Meeting client needs
How to communicate your clients happy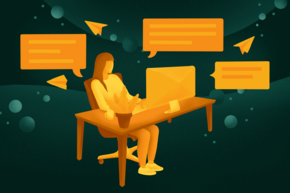 Like the famous psychologist Paul Watzlawick once said, "One cannot not communicate."
It's very satisfying for a project manager when everything is on schedule, and your client is pleased with your work. Meeting your customers' needs and making them happy can be a source of self-confidence and give you peace of mind on days off.
The key to a good working relationship lies not only in the execution of a job — it also stems from good communication.
Project Management is stressful
Or, let's say project managers seem to have an overwhelming and stressful job. They often play a central role in a project and deal with timelines, budgets, high expectations, or false assumptions. It feels like a scenario hard to escape without disappointing someone (at the least).
To prevent that from happening, it's essential to get to the core of a client's needs. You won't get there without empathy and an open mind. Let's have a closer look at how to avoid unnecessary conflicts.
Solving the wrong problem
Without understanding the real issues, challenges, and needs of a client, we run the risk of taking a wrong turn and putting a lot of effort in the wrong direction. Worse, our clients could burn a lot of money on things they don't need.
You don't want to provide a solution nobody asked for because you didn't take enough time to understand your client's needs. Sometimes, it's worth asking questions repeatedly until you're sure you understand their issues and needs. This will lead to smart decisions and a clear plan for meeting your customer's goals before you go full throttle.
A clear, strong focus is essential and prevents you from getting bogged down in details. But make sure you get to the core of your clients' needs before you dive into that focused state.
Summary:
Think out of the box, talk to your client, and ask questions repeatedly until you clearly understand your customer desires.
Example: We need a WordPress
Let's try a hypothetical example: A client says he needs a new WordPress landing page and wants you to set up everything for that task. Now you could quickly start the work and brief your WordPress-guy to set up a new WordPress instance, see how the content will be delivered, etc.
But perhaps if you ask the right questions and have an in-depth conversation with your customer, they might reveal a need for a simple landing page for their next campaign within an existing product line. You take a closer look and realize that their product website was built with TYPO3, which already has all the templates you need to build an MVP landing page that meets your client's needs. You finish the website within 10 minutes and save them a lot of work and money. It's a simple example, but I think you get the point: look into the background and intentions behind a project before you start "doing," and question plans that seem too swiftly made.
Invest in kindness
Working with people is a privilege, but it also comes with challenges. Inevitably, you'll have to hone your soft skills. When you don't hit the right tone, or you show up too grumpy, some clients won't work with you a second time—even if you finish the project on time and fulfill all of their requirements. Be the person you want to work with. Try to be patient and avoid hot-headedness, even if your client seems to be a pretty unpleasant person. Also, be clear and definite in your communications. Help your clients bundle their thoughts, reflect their requests, and make them feel in control of the situation. They will most often reward you with gracious timelines, the right amount of necessary information, and inclusion in their processes early on. Being nice to people and showing empathy will pay off in the long run.
The b13 approach
At b13, we try to communicate clearly and with empathy, in all areas of work. Here's a short excerpt of the promise that we make:
We prefer building trust and understanding to impersonal price-quotes and RFPs. We keep our promises and deliver quality.
We ask why, and we ask again—When we interact with a potential client, we work with them to get to the core of what they need - before we ever talk about fees, costs, or implementation. And sometimes that means they don't need anything from us in the end.
We don't sell, we listen—We want to get to know our clients, not just their problems. We build personal connections and trust while discovering their underlying needs and challenges together.
Mistakes are learning opportunities. We discuss problems, document solutions, and plan their implementation across new and existing projects. Learning isn't something we have to find time for at b13; it's part of how we work.
We do what we say—We make clear agreements. We only promise what we know we can deliver.
Learn more about our values here
Result
If you follow these guidelines, we think you'll likely get something out of them. Happy customers will make you happy yourself, and even the biggest hiccups within a project are manageable when you have a good connection with your client.
We always strive for a long-term partnership on an equal footing and we love to see projects grow and flourish over many years while serving as a partner, advisor, and worker. When you and your client trust one other, you'll nearly always find a way to handle the problems a project throws at you.
Happy clients are the best advertising that money can't buy!