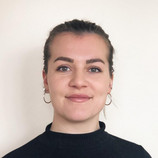 Stefanie Kreuzer
UX Designer
Job and Role: Creating concepts, Wireframes, Interface Design, Creating vector based graphics and icons, Reviewing conceptual or design ideas (sometimes even for print).
Outside of Work: Hiking, jogging, urban gardening, DIY plant stands, propagating succulents, darts, reading, horror movies, my cat (he is a jerk, but we're used to each other), anything Harry Potter!
Tools Steffi can't live without:
Breakfast
Gin & Tonic
Roller Coasters
Coffee
BBQs
UX and interface designer, Stefanie is way cooler than the rest of us. Thankfully, she doesn't hold that against us. She is easy to get along with; we and our clients can always rely on her. She has a special quality we call "seeing the work." She instantly understands what needs to be done for any given project, and gets on with it. Stefanie spends a great deal of her spare time combining her passions for travel and music, at concerts and festivals, in campers, and hiking.
Expertise
Design, Documentation, Delivering Value
Questions, User Stories, Written Concepts
UX, Responsive, Adobe XD
Listening, Learning, Teamwork, High Fives, People, Family
Stefanie and TYPO3
What I love about working with TYPO3:
benefit from community, contributing to everyone's favor
My favorite thing(s) about TYPO3:
Open Source, easy editing, individual configuration
Stefanie on working at b13
The best parts about working at b13 for me are that I get to be part of a family that includes a kaleidoscope of specialties and knowledge. My opportunities to work hard, keep learning, and improve myself professionally are matched by the respect and results I get back from the rest of the team. The occasional quitting-time G&T and our (almost) legendary Launch Barbecues are nice, too! For our clients, I think the best parts of working with b13 are that we mean everything we say in our manifesto, we have very high standards of quality, and we put our clients needs first.
Steffi's Dos and Don'ts
When in doubt, always get a second opinion and offer help in return.
Always work with a well-organized design system with clear hiracies to eliminate subsequent faults.
Always try out new things; keep an open mind.
Always challenge yourself and participate in open, friendly competition.
Always claim a tiny-hand-high-five and celebrate minor accomplishments when and where they come.
Never assume you always know best—note to self!
Never ask my opinion ... if you don't want to hear it.
Never clutter your desktop with unsorted files.
Never feed me an avocado (it's gonna be mayhem).