How we kick off TYPO3 projects for enterprises
What you should expect from initial meetings with a digital agency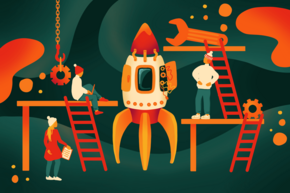 Whether you need to upgrade your TYPO3 version, relaunch a website, or build new enterprise functionalities, your choice of digital agency can make or break the project. Knowing which agency is right for the project and whether their capabilities match your objectives can be challenging. As you begin a new project, you should have a conversation with your potential agency to make sure they have a deep understanding of your requirements, existing systems, and objectives.
At b13, we cover objectives and explain our plan before we write a single line of code—which helps keep our clients on the same page as us. If you're hoping to upgrade, relaunch, or build your enterprise website (or multiple websites) from scratch, here's what you should cover in initial conversations with potential agencies:
Concept before code
Enterprises need agencies that can work with their existing functionalities, systems, integrations, and interconnections. Every time b13 meets with prospective clients, we create a Concept Document detailing our understanding of an organization's objectives, the current state of their digital infrastructure, and what a future state of their system could look like. We consider this Concept Document every bit as important as project execution.
By asking prospective agencies to account for all technological and conceptual aspects of a project, you avoid unpleasant surprises down the road, like unexpected incompatibilities or a new TYPO3 version update right after you relaunch. Concept Documents also help agencies define what tools and technologies they'll need to fulfill your projects' goals. Any work plans or deadlines are unrealistic until agencies have defined the full scope of a project.
What's included in a Concept Document?
Before beginning a project, b13 audits our clients' current systems and defines what's already in use. Only afterward can we help you decide what needs to be updated, left alone, refactored, deleted, or built from scratch. The product of our due diligence is a Concept Document including the following components:
Objective: a clearly stated definition of what your business or organization wants to accomplish, developed in collaboration with our client. Think of this as the broad vision you'd use with your C-suite.
Requirements: what a project would need to fulfill for the enterprise to meet its objectives. We define requirements after we've thoroughly explored our clients' underlying goals. For example, we might list "Scalability" as a requirement for a company seeking to use a single platform for publishing websites as it expands its operations into new languages and locales.
Technical Considerations and System Setup: a full account of technical terms, external systems, and requirements, and a plan describing the systems we would use to build out your web project. This should be the longest core section and include proposed extensions as well as the site configuration—i.e., whether b13 recommends multiple installations or multiple sites on a single TYPO3 installation.
Backend Configuration: a descriptive outline of your proposed web project's page structure and hierarchy, content elements and pages types, and how user groups and permissions will be set up on the backend. In this section, we begin to envision what the new site will look like.
Custom-built functionalities: if you need custom features, specialized content, or a module that allows you to do something specific (for example, copy a website template into a new language or locale), this section describes what those things are and how we plan to accomplish them.
Make sure the agency has the right toolbox for you
Your objectives should dictate the system—not the other way around. Once you've discussed goals and objectives with an agency, they should make a case for why the tools they're suggesting are the most appropriate for your project. Review the Concept Document to evaluate whether the agency clearly articulates why their solutions are the right fit. Ask for clarifications. For example, if you run a news site, you might ask, "can this system support a live news feed with minimal effort, or will I need to tack on additional services that may cause issues down the road?"
Check out an agency's clients and case studies to figure out what kind of projects they specialize in, and ask lots of questions. After several meetings, it will be clear whether the agency's specialization works for your needs. At b13, we take the time to sit down with potential clients and make sure they understand the Concept Document. We like choosing projects that fall within our expertise because it helps us establish long-term relationships. When we select TYPO3 for a project, it's because it's the best fit for our client's objectives.
Need a concept for your next project?
b13 sets up web projects—from the smallest campaigns to large, international enterprise websites—in a way that we would be willing to maintain for ten years. We treat our clients with empathy and take the time to understand their needs deeply.
Make sure an agency understands your technical requirements and knows what to expect once that project begins!
Get in touch to learn more about how we work with potential clients.