TYPO3, a CMS without borders
Powering a digital strategy near you!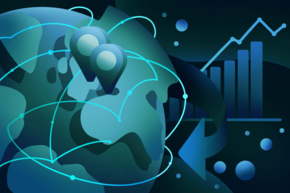 TYPO3 is an open source CMS used widely across Europe, but it is still surprisingly little known in some regions. Built for international, multiregional, distributed, and multilingual organizations, TYPO3 is an accessible CMS for users around the world. In this article, we'll walk you through the strengths of this CMS and why you should consider it alongside other popular solutions like Sitecore, Drupal, and WordPress.
With a dedicated, thriving community of developers and designers, and a broad, professional user base, TYPO3 is truly an international CMS. We invite you to take a look and try it out for your next digital project.
A sample of use cases from our work here at b13 shows the varied solutions that TYPO3 can offer different global organizations:
Texere Publishing Limited is an international science content publisher, with a presence in the US, Canada and the UK, delivering six magazine websites on TYPO3. Find out more about how we helped them relaunch with beautiful, compelling content in the Texere Case Study, The Science of Compelling Content.
d&b audiotechnik, delivering professional audio solutions, uses TYPO3 for a multilingual, enterprise website serving employees and customers on a global scale. More than a content repository, the website is a hub integrated with external tools (such as Salesforce) automating internal processes and making workflows more efficient. Read the d&b audiotechnik case study, Streamlining Processes for a Global Enterprise.
Villeroy & Boch, porcelain manufacturers, use TYPO3 for their Professional Portal - a website that serves their trade customers. The portal lets tradespeople log in, access product information, and curate content for their own clients. It is optimized for mobile and delivered in nine languages. Read the Villeroy & Boch case study, Uniting Creativity with Consistency.
Key concepts
If you're unfamiliar with TYPO3, here is a brief showcase of some of its key features and benefits:
Page tree – The page tree represents the hierarchical page structure of your website, meaning intuitive, easy to find content for editors.
Structured content – Minimize developer time while giving maximum flexibility to your editors. Flexible content elements (based on a content type data model) mean that staff can build web pages without relying on the IT team, while at the same time adhering to corporate brand and style requirements.
Decoupled front and backend – Act on your omnichannel digital content strategy with one CMS. Go headless and deliver content to all manner of platforms, or go hybrid using TYPO3 to power your traditional website (or even use it as a static site generator).
Massive multisite installations – Run hundreds of sites in a single installation, without compromising security, performance or usability. A centralized configuration model allows distributed teams in your global organization to share content, and fine-grained user access management means you can have locally-run sites with a centralized brand.
Read more on What is TYPO3?
TYPO3 speaks every language
English is the language of global business, and TYPO3 is an English-first product and community. That said, TYPO3's broad mix of developers and users communicate in many languages in support forums and user groups. This makes for stress-free onboarding, as you can get help from an expert no matter your first language (or second, or third!).
TYPO3 is committed to localization, and uses CrowdIn to crowd-source the translation of the backend interface and TYPO3 extensions into over 40 languages.
Localize your website by adding an unlimited number of languages to your TYPO3 installation. TYPO3's editing interface supports many types of alphabets and character sets. You can integrate with translation services and configure workflows to maintain your multilingual websites with minimal effort.
Sustainability of open source
TYPO3 has a mature community and is a dependable product. With an eye toward constant improvement, TYPO3 has a predictable release schedule and publishes its development roadmap, so you can see where things are headed and plan for the future.
Organizations new to open source software can purchase peace-of-mind: gaining all the confidence and security of supported software through the SLAs and extended long-term support offered by the TYPO3 GmbH.
See TYPO3 in action
Don't just take our word for it. Have a look at some of these resources to find out more about TYPO3 and get a feel for how it will suit your next project.
TYPO3 is the CMS for you
b13 are TYPO3 experts, and have experience in implementing a variety of project types, on a global scale. At b13, we have engineers on the TYPO3 Core Development Team, so we're tapped in to the direction of the product, and we know that there are exciting things on the horizon for the CMS. Take a look at the theme-based roadmap to see how the TYPO3's product goals align with yours.