Oli Bartsch: Get to know b13's newest team member and TYPO3 Core contributor
Why he loves TYPO3 and how he began contributing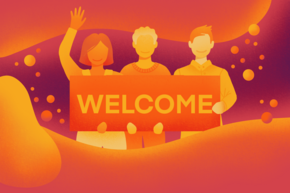 We are thrilled to introduce our newest team member, Oli Bartsch! He will be joining b13 full time to work on TYPO3 as we continue to build out Core's features and create new tools for developers.
Oli started dabbling in TYPO3 as a trainee in Applied Computer Science, and has been a valuable member of the community ever since. Read on to learn more about Oli and what he'll bring to TYPO3 Core.
A fortuitous encounter with TYPO3
Oli has been working in TYPO3 for six years, since he began as a trainee. He jokes that he was more or less "pushed into it" by his first employer, but soon found that he liked working on enterprise software. He appreciated how TYPO3 was designed to "do it all" rather than provide piecemeal solutions. The community helped, too—working with other enthusiastic developers made Oli want to dedicate more of his spare time to it.
Asking for problems, not solutions
After completing his trainee program, Oli worked for an agency supporting companies' digital transformations.
"Customers would come to us with ideas for solutions, but not their actual problems," he says. He enjoyed reverse-engineering these narrower solutions to understand the root issues, after which he'd come up with the most appropriate fix. On the job, he learned to say: "Okay, but can we talk about your problem first?"
The experience of working with so many companies solidified Oli's belief that TYPO3 is a great platform for companies planning further digitalization. "If you start with TYPO3, you can easily integrate tools like Salesforce or other management systems," he says.
Contributing to Core was surprisingly easy
Oli began contributing to Core in 2018, while he was working at the aforementioned digital agency. He remembers being surprised by how simple it was to commit his first bug fix. "We need to publicize how easy it is to contribute—because it's actually really easy!"
His first bug fixes were to the FormEngine, which renders records in the backend, as well as the ListModule—when his former clients with slow connections were having trouble localizing records. In later versions he moved on to fix issues in the new Fluid-based Page Module, as well as Dashboard widgets. "I was editing my own custom widgets at that point, so when I discovered some bugs I was able to fix them for the TYPO3 version 10 release."
Six years in and still loving TYPO3
As a seasoned TYPO3 developer, Oli can reflect on where the CMS scores highly and where it has room for improvement. He sees a bright future for TYPO3.
For Oli, TYPO3's PSR standards set it apart. "I don't know which other framework implements this many PSR standards," he says. He's especially enthusiastic about the streamlining effects of PSR-15 middleware, released in version 9. "Now there's just one central place for validating and processing requests."
He thinks URL-handling, user group permissioning, and hooks for extending core functionality were all greatly improved in versions 9 and 10. "Editors can now do everything they need for SEO without custom extensions," he says. "And with the introduction of PSR-14 events, developers can hook into the Core in a standardized way."
But even with years of TYPO3 experience under his belt, Oli sympathizes with newcomers' pain points. "We need to keep documentation up to date and make it more clear," he says. "Someone new to the TYPO3 universe might not know all the technical terms." He loves the idea of developing a glossary to introduce new users to TYPO3-specific terms.
Oli appreciates the bounty of video tutorials available to content editors, and would like to see more aimed at technical users:
"I'd love to see more videos explaining, for example, how something like user authentication works," he says. "A Core developer familiar with the internal code might be able to explain a concept like that in 20 minutes."
A dream job: Working on Core full-time
When Oli saw b13's job posting, he knew he had to apply. "I'd already thought about how cool it would be to work on TYPO3 full-time, and when Benni Mack posted this position, I said: this is my dream job!."
While many agencies provide workable solutions, not all think long-term. This was another draw for b13: "It's important to be future-proof, and make sure something doesn't just work right now, but will also work in five years. I came to b13 because they care about this, too," Oli says.
Oli has already begun working on bug-fixes with Christian Kuhn, and looks forward to adding new features to TYPO3 Core.
His initial plans include making it easier for developers to upload extensions to the TYPO3 extension repository. "Right now you have to ... input a username and password on every upload or do it manually via the web." He wants to develop token-based authentication that allows users to push to the repository through a REST API.
Oli's life afk (away from keyboard)
When he's not busy improving TYPO3 Core, Oli likes driving through the Bavarian countryside, shooting darts, and playing soccer. He is also a Bash aficionado: "I love creating custom Bash scripts so my daily work is easier," he says.
It's a good thing he's set up all these shortcuts, because there's plenty of work ahead for Oli. We're so happy to have him on board, and really excited about the improvements he'll bring to TYPO3 Core. Keep following our blog for more information and updates!
We're always building more expertise in TYPO3.