Christian Kuhn: All About b13's Newest Team Member and his TYPO3 Career So Far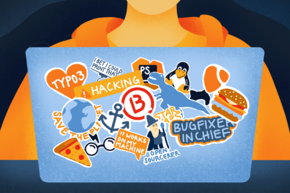 We are delighted to announce that Christian "Lolli" Kuhn is joining us to work full time on TYPO3 core. Lolli has been using TYPO3 for 17 years and contributing to it almost as long. In this post, you can get to know him a little better, find out more about what he'll be up to with us, and how to follow his progress on making our favorite open source CMS even better for us all.
Thank you to all the dedicated, highly-qualified, and enthusiastic TYPO3 developers who applied for this position. We sincerely appreciate all your contributions and are proud to be part of the TYPO3 Project with all of you. Together, we make this community strong, and the world a little bit better every day.
A Career Built on Open Source
What's the oldest TYPO3 version you remember? Does your memory go back as far as v3.5? It was released in 2003, two US presidents ago, and the year Greta Thunberg was born. Christian Kuhn remembers it. It was the first version he used and a huge step forward for the technology, "There was a huge divide between 3.3 and 3.5. It gave us things like extension management and extensions. That kick-started TYPO3 as we know it," he reminisces.
Christian first chose TYPO3 because the ideals behind open source exhilarated him. "I wanted to do something good for the world, planet, and people. I saw open source as my opportunity as an IT student."
He began as a casual user of TYPO3, before quickly moving onto bigger projects and his first TYPO3 job with an IT agency in Willich, Germany in 2003. Over the years, his work became ever more ambitious. As the Internet grew, Lolli began working on core to help TYPO3 keep up with ever more challenging customer requirements.
"In 2009, I moved to Hamburg, where I worked for [TYPO3 community veteran] Volker Graubaum at e-net consulting," he recalls. He still lives in Hamburg today.
Refactoring TYPO3 … and Refactoring it Again
"Around version 4.5," he explains, "we realized that a lot of core needed rewriting if TYPO3 were going to survive. So I ended up rewriting a lot of TYPO3." Every significant bit of refactoring over the past several years—you name it, Christian has probably been involved in it. "I was heavily involved in refactoring the form engine, which you use to enter all the technical information when you open a record in the backend. It's highly dependable, and you can extend it much more easily now. I also rewrote the install tool ...twice!"
Since then, he worked at TYPO3 GmbH from 2017 to 2019 also working full-time on core. (This is the official TYPO3 company that supports the TYPO3 ecosystem and the community with products, services, and industry partnerships.) There, he focused heavily on infrastructure issues to ensure TYPO3 would run smoothly—for example, automated testing for TYPO3 core.
Still Smitten with TYPO3 After All These Years
Asked what sets TYPO3 apart from other CMSs, Christian is clear: "Content and information architecture in TYPO3 is highly structured. You have page trees, pages, and single semantic content elements, and stuff like that. It's separated into small pieces, so you can juggle and rearrange it—ingesting, processing, and publishing it in any channel."
TYPO3 is also frontend-agnostic (and "headless" when you need it). The combination keeps TYPO3 relevant in today's era of smartphone apps, dynamic application-like frontends, the Internet of Things, web-to-print, and more: "As long as your content is in there, you can use it for whatever target you want."
Alongside the structured content, Christian says TYPO3 offers many features out of the box that other CMSs don't. It provides them as robust, tried-and-tested out-of-the-box functionality, rather than plug-ins of unknown quality. For example, "You can nest elements within each other, you can use the inline concept or have a workspace approach. You can work on an offline version of a page, compile content there and then loop that through an editor in your process and then, at some point, say, 'publish that now and go live.'"
Lolli and b13 Go Back a Long Way, Too
Christian and b13 go back a long way, and he's known Benni a long time. Fun fact: Christian has chalked up nearly as many patches and contributions as Benni! He jumped at the chance to work with b13 and dedicate serious time to working on core again.
The initial focus of Christian's work will be TYPO3's Workspaces feature. "These are," he assures us, "one of the most useful and complex parts of the system. It's a four-dimensional orthogonal problem that is mind-bending in places. If you have a live record for a content element, and you change it in a workspace, you will get another row in the database. If you move records around, further rows are added and need to be tracked in play. All that state handling isn't easy to grasp." This additional dimension of complexity is on top of issues that are, on their own, enough to furrow the brow of the many a seasoned dev.
At the same time, "We know that a lot of stuff, the overall concept and process, already works in TYPO3 Workspaces. We can prove that with hundreds of tests designed, added, and repeatedly passed over many iterations and development cycles. So bugs have been appearing further and further away from the main use cases. At this point, there are still pesky edge- and corner-cases appearing. So fixing bugs in this area involves reproducing the issue, confirming it, then seeing how to solve it, and adding tests so this issue doesn't show up again—ever!"
All the effort is worth it. Workspaces offer practical, real-world benefits for editors and agency owners: "You can preview the content and have an approval workflow within it. You can work on your content, edit it and add images or logos or whatever, all in an offline version of that page. At some point, the chief editor says, 'Yeah, that's okay!' and then you push the button, and it goes live."
Keeping Up with Lolli—Where to Follow his Work
The sheer complexity of Workspaces means Christian will have lots of work to do over the coming months.
There's a lot we can all learn from the work Christian will be doing, and in the spirit of open source, he's going to let you peek over his shoulder while he's doing it. Keep up-to-date with his progress on our blog.
We're really excited to have Christian with us and even more excited about the improvements he'll make to Workspaces and TYPO3.
We're pouring loads of goodness into TYPO3 core, especially Workspaces. You can benefit from all the improvements by upgrading to the latest version of TYPO3. Want to learn more? Talk to us about our 2nd Opinion and Upgrade offerings.