Level up your TYPO3 forms with custom extensions and flexible finishers
Easily adapt forms to your business needs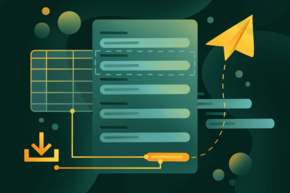 TYPO3's "Form" system extension is a flexible framework that can handle many configurations, templates, and use cases. While TYPO3 makes it easy to create forms on the fly, your business may have more complex needs that require backend adjustments. Rather than seeking tech help for every minor change, your company might benefit from a custom extension or flexible finisher that makes forms more self-serviceable for marketers. At b13, we love to help our clients get more flexibility out of TYPO3 Forms with custom solutions for specific business needs.
Learn more about creating custom forms in TYPO3
A single table for all your form data
By default, TYPO3 saves form data to a self-defined table in TYPO3's database. Users must define a new table for each form and make sure form fields match those in the database. But when your business needs more flexibility on the backend, or your marketing team wants more self-service options, you can benefit from a custom extension.
Say goodbye to a new table for every form: b13's custom form extension parses user-inputted data into JSON, then saves the data as a single string in the TYPO3 backend database.
Saving time and effort, our clients only need one table for all of their forms. The marketing team doesn't have to worry about 1:1 matches of field names in the TYPO3 backend every time they add a new form field. Data can be easily exported to a spreadsheet or CSV format for analysis.
Our clients use this extension to:
Save user info for a short period of time
Collect and share data via spreadsheets with internal marketing and business teams
Provide a backup database for Customer Relationship Management (CRM) integrations
Backups for CRM integrations
When using website forms to gather data, companies typically integrate their website CMS with a CRM to store data. In most cases, data is written to the CRM's production environment, which makes the connection vulnerable to outages. It's important to have a failsafe to protect against CRM downtime, an unexpected expired token, or other unforeseen issues.
If your business needs a backup database to mitigate the risk of CRM connection issues, b13's custom extension can store and save the data in the TYPO3 database until the connection recovers. The extension also comes with a scheduler task that deletes user-inputted form data after a specified time period, so your company can define the timing and remain compliant with privacy laws.
Flexible Form Finishers
Form Finishers carry out actions once a user has completed a form. A form finisher might send an email saying, "We've received your response," redirect a user to a separate page, display a popup message, etc. For one of our b13 clients with multiple sub-brands, we wrote a flexible form finisher that lets users select which sub-brand receives the form data from a drop-down menu.
Flexible form finishers also help increase self-service with CRMs. For example, when we connect forms to CRMs, we implement token-based authentication. If the token is expired, we automatically retrieve a new one, so no one has to request manual authentication. The form finisher can then send data to the CRM.
Boost your business with custom solutions
By adding custom form extensions and flexible finishers, you can:
Create more forms in less time
Increase flexibility and self-service
Free your marketing team from busy work on forms
Easily export form data to CSVs
b13 has expertise in extending the functionality of the TYPO3 to make forms and other features more self-serviceable. We constantly implement and adapt new features to meet our clients' needs, making form design easier for creators and marketers.
Need help building a custom form extension or collecting the right data?
Get in touch!