TYPO3 CMS Meets DMEXCO 2019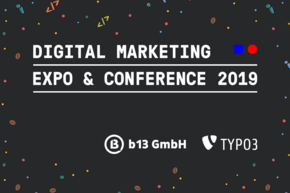 Each year DMEXCO brings together global leaders in digital marketing and advertising—and about 40,000 trade visitors. The theme for the DMEXCO conference this year is "Trust in you." What better place and what better theme for us in the TYPO3 community! Trust and transparency are what make open source shine. And we'll be there to show visitors how TYPO3 shines at delivering web and communication solutions at every scale in every channel.
We like to say TYPO3 CMS is "Enterprise Open Source," and "the Professional's CMS." Our favorite open source content management system provides such a solid base for us to deliver client needs that we never think twice about choosing it when it's the right tool for the job.
We've been using TYPO3 since 2003 and we, too, remember the days when it was "slow" and "ugly." Those days are long past! We use open-source tools because everyone can improve and extend them to meet their needs. Beyond delivering value to our clients through custom-tailored TYPO3 solutions, we've been part of building and extending it for the last 16 years. Our team includes the TYPO3 Project Lead, Benni Mack, whose time we contribute to the project.
Working for clients, some of the incredibly useful TYPO3 features we use daily include:
Serious multilingual support and intuitive translation interfaces. We help clients deal with dozens of regional variants (language + products) to comply with regulations and customer needs.
The Page Tree. The centerpiece of managing content in TYPO3, it is the backbone supporting content editors, multisite functionality, access permissions, corporate branding control, and so much more!
Image cropping and manipulation built-in. Upload your images. Crop, watermark, and change according to your needs right in your CMS backend! Auto-generate and cache variants for all screens and channels.
Integrate data from any source. Using the File-System Abstraction Layer (FAL), you can connect any data source—S3 bucket, database, a Dropbox, whathaveyou. It is entirely transparent to users; TYPO3 presents it to editors as a fully integrated part of the file system.
b13 at DMEXCO
TYPO3 CMS is something we're incredibly proud of, and we love showing it off. Three of us will be there to do just that at DMEXCO19. Simone Marxer and Desirée Lochner from our client-facing Project Management team are expert listeners and at getting to the heart of matching our clients' business needs with technology. And I, David Steeb b13 CEO and (they tell me) TYPO3 expert, will also be there to answer your questions, technical and otherwise.
We'll be presenting two information sessions at the booth. If you can't see us there live, be sure to get in touch and ask for the slides or a conversation about what interests you!
Performance-driven websites with TYPO3 – David Steeb – We'll be talking about one of our agency's core Solution Areas, really really fast websites and why they're more important than ever.
Content Management Made Easy or "Backend is Beautiful" Desirée Lochner & Simone Marxer – How TYPO3 is the editor's best friend. We'll show you the TYPO3 user experience from the page tree and hierarchical content management to semantic content elements. See how to easily add SEO metadata, include external data sources, and create custom backend modules to suit your needs and workflows.
Join us in Cologne!
We'd love to talk to you about your evolving needs in the ever-changing digital landscape. We enjoy facing new problems and requirements that we don't know how to solve ... yet. Come challenge us at DMEXCO in Cologne this September!
See you in Hall 8.1, Booth D020 at DMEXCO19!
… and if you can't make it to DMEXCO, drop us a line and let's talk soon!