How We Make TYPO3 Upgrades Fast and Easy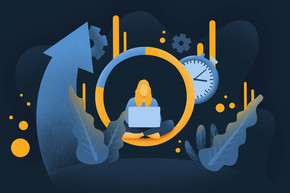 At b13, our experience has shown us that upgrading your TYPO3 site to the latest version and updating it regularly after that is the most cost-efficient way to get the most value out of your site. Upgrades between major versions of TYPO3 are easier than ever before. People seem to overestimate the work required to upgrade their sites. Smart automation and staying close to the TYPO3 community make upgrades fast, easy, and worth doing for every major version release, every 18-24 months.
Need a hand planning an upgrade? Need an objective look at what's needed?
Talk with us about getting a 2nd Opinion on your upgrade.
Pros and Cons of Long-Term Support (LTS)
The TYPO3 Platform offers excellent official support that can rival any CMS, whether commercial or free and open-source (FOSS): it is free for you to use with confidence for three years. By "with confidence," I mean that every Long-Term Support (LTS) version of a TYPO3 CMS major release is fully supported for 18 months, and supported with security and critical fixes for another 18 months.
However, some people talk about FOSS being "free as in puppy": if you get a puppy for free, you still need to take care of it to keep it happy and healthy. The same goes for your content management system. TYPO3, like all software, needs to be up-to-date in order to ensure it is compatible with its underlying technologies (operating system, PHP, database, etc.) and compliant with legal regulations like GDPR.
TYPO3's smaller, regular "maintenance" releases need to be installed roughly every six to eight weeks to keep your sites running at their peak. Major releases come every 18 months. They usually include more features, improved performance, and whatever the web has been up to recently (e.g. supporting new formats, channels, or services). Major version core updates have become quite smooth and easy in most cases, but are still a larger undertaking—and devil can be in the details of your specific extensions, configurations, or infrastructure.
If you wait several years in between upgrades, however, you will face increased costs, larger technical hurdles, and time pressure when it's time to move from a potentially unsupported version to a newer one. Some third-party extensions won't be compatible any more or won't offer an upgrade path, leaving you with even more to do.
In recent years, we have come to the conclusion that upgrading regularly, from major version to major version, every 18-24 months, is the most cost-efficient way to deliver the best results and the most value for our clients.
Why Upgrade Instead of LTS?
Sticking with an older LTS version is just putting off the inevitable. You, your teams, and your clients will get more out of your CMS if you upgrade to the latest TYPO3 version now and keep up with new major and minor releases in the future. Here are a few reasons for upgrading regularly that we wanted to highlight:
Use the latest stable, supported technologies and the latest feature set.
Harness performance improvements, faster backend, and improved caching.
Offer the best editor experience in a clean, responsive, fast backend.
Develop on an up-to-date codebase with latest features: easier maintenance, fewer updates later.
Upgrade or migrate away from relying on third-party extensions for a cleaner, faster and more flexible TYPO3 system.
Maximize your ROI and get the most out of any custom development you need.
Check out our 2nd Opinions and Upgrades page for more!
Upgrading is Easier than you Think
Upgrading every 18 months sounds daunting, but it might be less onerous than you think. Newer versions of TYPO3 make upgrading easier than ever and TYPO3 core developers are aiming to make TYPO3 updates even easier in the future. So if you've been put off in the past, you should take another look. You may have been given an offer for an upgrade that seems very expensive—but these days there are ways and means of finding out exactly what is blocking your road to the latest TYPO3 version.
Indeed, we're often asked to assess upgrades for outdated installations and our experience shows that clients often overestimate the work required for an upgrade, and are unaware of the significant advantages discussed above.
If you'd like to get a specific roadmap for defining the scope of a given upgrade, you might be interested in our two-stage 2nd Opinion service. We give you an informed estimate of what steps will be necessary, what uncertainties there are, and how to plan your upgrade. There's no obligation to contract the work from us—you can use it to plan the work yourself or to buy the services from another agency.
Tips for Fast, Easy, and Attractive TYPO3 Upgrades
We maintain and upgrade websites for many clients as part of our daily business. One reason we do it is that we love working on the latest TYPO3 version. Another is that when you're running the latest version, you have a lot fewer worries than you do with an outdated or insecure installation.
Regular updates and upgrades can have some downsides, though:
They can interrupt your editors during a "content freeze."
Third-party extensions you need may not be updated to the latest core version.
Human error in manual processes can cause unforeseen problems.
Introducing new software always risks introducing new errors and requires testing and debugging.
However, we have found solutions to these problems so that the gains far outweigh the downsides.
Our first lesson is the importance of automation. We have automated much of our upgrade process, which vastly reduces the potential for human error and speeds things up, saving us time and money. We invest a massive amount into evaluating a given installation to be able to build the upgrade instruction set for it, but repeatable, predictable processes are worth it. They're a much better way of maximizing stability than timidly languishing in old TYPO3 versions from several years ago.
Second, we advise using core functionality wherever possible. As TYPO3 versions progress, many functions that were previously in contributed extensions are available in core. An upgrade is a perfect opportunity to downsize your list of extensions and get rid of unused code. This is the best way to make sure your application won't break during the next update or upgrade. It also supports the automation strategy.
Upgrading a system for us often also results in removing older, outdated extensions because their features have been implemented in core. And frankly, sometimes it feels like half of the extensions we see in older TYPO3 instances are either full of unused features, or simply aren't used anymore. The good news in these cases is that there's no need to upgrade these at all.
This strategy can help you "build for the future." If you already know where you're planning to go with a TYPO3 project, an upgrade to the newest version can help save costs for what's planned next. For example, if adding a feature to your site requires 20 developer days in your current version, but only ten if done in version 10, that's like a hidden cost of not upgrading (or a hidden savings for upgrading!)
Third, if we do build them, we keep extensions to a minimum, only building functions that don't exist in core. And we contribute the code to the community, which ensures they are tested thoroughly and is a guarantee that they adhere to TYPO3's rigorous core architecture and standards. This, in turn, ensures stability and further supports the automation approach.
Finally, we stay close to core code and close to the core community. It's our experience as core contributors that enables us to know in detail how to keep our code clean and efficient and avoid duplication. We can even improve TYPO3 during your upgrade—identify and fix issues in TYPO3 Core for everyone—where necessary to improve automation, all the while adhering to the correct core processes and standards.
Time to Upgrade!
With TYPO3 CMS v10 LTS ready to go at the time of writing, there's never been a better time to get your TYPO3 sites up-to-date and "future-proofed" for the updates and upgrades of the future. If you agree with us about the benefits of keeping the pace with state-of-the-art TYPO3 technology but need help putting that into practice, we'd love to help. We could give you a 2nd Opinion on your next upgrade and lend a hand with it if you need one, or consult, advise, and train you to put our recommendations into practice.
Get your 2nd Opinion or talk with us about your upgrade needs today!