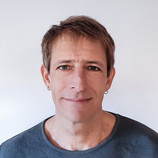 Achim Fritz
Backend developer
Tools Achim can't live without:
Backend developer Achim, is the tough critic you need to give you honest feedback about your code. He's also the first to crack a joke or burst into laughter when you tell one. His almost legendary distaste for all things aesthetic (never ask him about design) is more than made up for by his deep technical mastery of the open-source tech stacks we run for our clients at b13.
Expertise
TYPO3 core, extensions, middleware, upgrades, version 10
PHP, Linux, Solr, testing, Cloudflare, Github - CI/CD
Achim and TYPO3
TYPO3 gave me the chance to build my career on a great open source technology, supported by a welcoming community. I have been free to use it, free to learn and help others, and free to solve problems in lots of different ways. So far, I can do everything I can imagine with TYPO3, nothing has been impossible.
Achim on working at b13
At b13, I get to work with open-source code and a great bunch of colleagues. I've never seen us take a project we couldn't deliver. Nothing seems impossible and we have the freedom to experiment, learn, and solve things in new ways.
Job and Role: Backend
Achim's Dos and Don'ts
Always find a solution. Never give up.
Always finish what you started.
Never (ever) ask me for advice on design, CSS, or pixels.