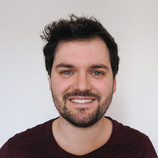 Matthias Stegmann
TYPO3 integrator, frontend developer
TYPO3, HTML | CSS | JS, everything infrastructure related
Tools Matze can't live without:
A good computer
running a decent OS (MacOS or Linux)
Matze, jokingly referred to as our house robot, due to a personality test gone horribly wrong, is a powerhouse TYPO3 integrator and frontend developer. He also keeps our infrastructure running reliably and securely for our projects and clients. Rarely without a smile on his face, he is a dedicated father, husband, and community member; plus, a dedicated problem-solver who won't give up on anything he takes on till it is resolved and delivered.
Expertise
TYPO3, solutions, ROI
Testing, security, performance, provisioning, CI/CD
AMP, Solr, Ansible, Apple, Linux
Values, family
Learning, asking why
Gin, tonic
Matze and TYPO3
TYPO3 is the platform we base most of our project on at b13 and I enjoy the chance to be specialized in it. TYPO3 gives me practically unlimited possibilities as a developer. It sounds odd, but I can actually be creative while delivering efficient, up-to-date, standards-based solutions for our clients. Since it's open source, we can always add new features when called for.
Matze on working at b13
b13 always gives me room to learn and explore, while staying on the cutting edge of TYPO3, and delivering high quality work I am proud of. We're a tightly knit group and I feel like I'm part of a real team, including the occasional, good-natured bit of fun and competition. I love digging into a new project and working with a client until we discover and agree on what it is they really need. And then we get to build the best-possible solution for them! This often includes making TYPO3 itself better along the way, which is incredibly satisfying and gives us all an even better tool to work with the next time.
Matze's Dos and Don'ts
Always, always (always!) test your code.
Stay Secure.
Ask why.
Keep learning.