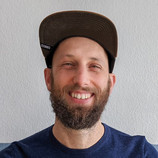 Daniel Gorges
TYPO3 integrator, Frontend developer
"I make the TYPO3 frontend beautiful."
Tools Daniel can't live without:
I always use a code editor like PHPStorm or Atom
I like to use the Affinity Design Apps (to avoid Adobe).
I cannot live without my coffee machine or Git.
The most common thing you'll hear Daniel say is "I can do that," or "I've got it." He's that person who does all the little things in the office, like water the plants and clean the coffee machine, before you even notice it. Apart from his talent for building website frontends, he enriches our lives (and our clients', too!) with incredible gifts, from the coffee he roasts himself to the beer he brews with hops grown in his home garden. Daniel volunteers, helping the disadvantaged in Stuttgart get online and learn new skills.
Expertise
People, Trust, Community, Family
TYPO3, AMP, RSS, HTML, CSS, JS
Apple, Android, Brew
Learning, Delivering Value
SEO, Performance, Relaunch, Upgrade
Coffee, BBQ, Breakfast, Gin & Tonic
Roller Coasters, Fun things
Daniel and TYPO3
I like the fact that TYPO3 is content-oriented and very flexible. There are always several ways to achieve a goal and you can always learn from trying another way.
Daniel on working at b13
Things I love about working at b13? As a team, we get to spend plenty of time together. My boss is also a good friend who wants to get the best out of me without pushing too hard. I can grow and learn, try new things when I want to. And I have the chance to make mistakes and learn from them. For our clients, we are always trying to find the right solution for a given problem; not the most profitable one.
Daniel's Dos and Don'ts
Always try new things but stick to familiar stuff when you need to get stuff done.
Always good food! I love good food! I love to improvise ;-) Always try to minimize!
Never be antisocial! Be helpful for everybody.
My user manual: Never rush me, I always give my best and I rush myself enough as it is.
Latest articles by Daniel Gorges