How to align your corporate brand with your web design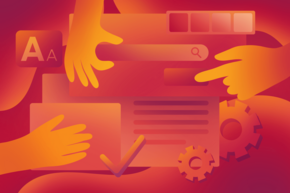 Accurately reflecting a brand's identity and goals through its website is a layered, multi-step process. It requires strategy, technical know-how, and deep understanding of users to create a strong, visually appealing website. Brand designers also need to be in sync with a business's goals to ensure their digital brand represents their long-term aims.
From brand identity to website design
Defining brand identity
A brand identity (or a corporate identity) is the summation of visual and text elements that work together to represent a company and differentiate it from its competitors. This includes the name, logo, color scheme, typography, imagery, and marketing messaging. It's a company's "personality" or "story", and how that's laid out across the user interface.
It's how an organization wants to act, communicate, and overall represent themselves towards their stakeholders, clients, and users.
The elements and application of a brand identity
Brand design is a part of the overall brand identity - the visual part. "Brand design is a consistent visual appearance that communicates the values of your company, addresses your users, and makes clear your unique selling points," says Stefanie.
A style guide is a document that outlines the visual and design elements of a brand. It establishes the rules and guidelines for creating a consistent and cohesive user experience across different platforms, devices, and interfaces. This guide will contain information on color palettes, typography, iconography, imagery, layouts, spacing, and other design elements. An organization's maturity and capacity can determine the complexity and detail of their style guide. Stefanie tells us how a style guide ties into brand identity. "A style guide is a handbook that defines the aesthetic pillars of your brand identity so you have an overall consistent visual approach for your marketing."
UI design refers to the process of designing the user interface (UI) of a digital product or service. UI design focuses on the look and feel of a product's interface, including the layout, colors, typography, and other visual elements that users can easily interact with and intuitively navigate. "UI design is the 'pretty part,' the aesthetic aspects of your brand communication that determine how your interface will work. It's where you determine the look and feel of your brand," says Stefanie.
UX design is concerned with the overall experience that users have while interacting with a product, such as usability, accessibility, and users' emotional response. "UX design is more about the interaction patterns between the user and the website. Like, where does the customer want to go, what's their goal, and how do we achieve it?" says Stefanie. However, she is clear that UI and UX design always go hand in hand at b13. "You can't really separate the two."
Converting brand identity elements into your website
Translating brand identity to a website is a strategic and intentional application of all the brand elements. Stefanie outlines the stages to achieve a cohesive user experience and consistent branding across the interface.
Define your brand identity: "Set the color schemes, logos, icons, and typography that will be your brand's visual pillars."
Identify your target audience: "Your target groups will inform the structure and navigation of your website, and how to make it intuitive for them."
Develop a visual style guide: "Your style guide provides a reference for your entire organization and ensures your visual communication is uniform."
Create a user-friendly design: "Accessibility and usability across every device and user group is always a priority. You can't have a Metallica-like font for your headlines — it's just not readable. We also ensure that the interaction area is big and clear enough for mobile users, so they can touch what they want and not interact with anything else."
Incorporate brand messaging and imagery: "After usability and accessibility, we implement the crucial points like logos, colors, typography, graphics, icons, photography, and messaging so it's consistent overall."
Test and iterate: "Our testing is always expert-based; we continue to iterate based on their feedback."
"To sum the process up, I would say first we meet the user's needs, and then apply their style guide across every marketing strategy they have," says Stefanie. "We've helped clients like C3 seamlessly translate their beautiful visuals and user experience into code."
How organizations small and large can translate their brand identity
For smaller businesses, having certain materials ready helps organizations like b13 work with you effectively. Stefanie lists:
Essential brand elements: "Having a logo, your brand colors, and your typography are a good start."
A clear differentiator: "It's a good idea to set yourself apart from competitors right from the beginning."
A marketing strategy: "I recommend having some sort of marketing strategy for big as well as small players."
Then, b13 can help with your "visual translation" to ensure comprehensive web conformance. "Sometimes, companies may have brand elements that don't shift well from offline to online, like typography," says Stefanie. "Especially as a small company, web conformance can have an exponentially greater impact, and we can help with that."
Larger organizations, which b13 typically works with, have specific needs surrounding brand identity. "Most of our big clients are interested in a website redesign or refresh," says Stefanie. Another requirement is to grow their customer base. "A client may also want to target additional user groups. Then our task as designers is to balance the design so it's still appealing to the original user base, as well as the new ones." b13's process is well-tested and is aimed at your target audience.
Uncover your true business goals: "Sometimes a client thinks they know what they want, but once we dig deeper, that ends up not being true. So we ask a lot of questions to identify their overall vision and business goals, then combine those with the needs of the end users."
Create a great first impression: "We help you to identify the motives of your target group and make your design desirable and attractive to them. We want to make it so they want to interact with it. If a user gets the right vibe from the start, then they're hooked, and will hopefully explore further and end up fulfilling their own needs. If a website's not targeted at you, then you might just skip it or look for another organization that's a better fit."
Provide easy-to-understand guidance: "We make your user interface intuitive to your target group. Sometimes our clients have complex information structures, which we help break down so your users can easily orient themselves on your site."
Ensure technical performance, responsiveness, and accessibility: "If a client comes to us with an issue like limited article views or newsletter subscriptions, we have various ways to help them. We can try expert-based UX testing, UX audits of their web pages, or performance and accessibility analyses. We focus our efforts on making their site more approachable and desirable to their end users."
"We're always trying to ensure design flexibility so you can apply it or modernize it throughout your company's growth," Stefanie concludes.
Orienting toward business-focused design
In business-focused design, every brand element and aspect of the user interface is calibrated to drive the organization's objectives. These could include increasing revenue, improving customer retention, reducing costs, or other KPIs specific to the company. Steffi adds, "Business-focused design is more target-driven; you have a goal in your design as opposed to just self-promotion or looking pretty."
Branding-focused design emphasizes the visual impact of a brand identity. "I would say branding focused-design is more how you want to be seen or how you see yourself," says Stefanie. Branding-focused design can be less anchored to concrete goals; makings its results less effective.
The most thorough UI/UX designers have a strong sense of how to combine design principles with achieving measurable value. Stefanie says, "We don't differentiate between the two at b13; we think they go hand-in-hand. We balance getting the business needs met with incorporating your brand identity so they don't clash."
Ensuring that a website's design remains flexible enough to adapt to changing targets is a rewarding challenge for UI/UX designers. "Branding is adaptable; it can always shift towards new users or business goals," says Stefanie.
Connect with b13 to link your brand identity to your business objectives for greater business success.